A Picture Book of Jesse Owens (Picture Book Biography) (Paperback)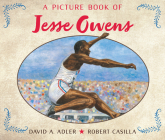 Description
---
Before Usain Bolt or Tyson Gay, Bob Beamon or Carl Lewis, Jesse Owens was perhaps the greatest and most famous athlete in track and field history. 

Jesse Owens was born on a farm to a large family with many siblings. His grandparents had been slaves, and his sharecropper parents were poor. But against all odds, Jesse went on to become one of the greatest athletes in history. He learned to run with such grace that people said he was a "floating wonder."

After setting multiple world records as a college athlete, including three in less than an hour—"the greatest 45 minutes in sport"—Owens competed in the 1936 Olympics in Berlin. Adolf Hitler intended for the games to display Aryan superiority, but Jesse disrupted that plan. He became the first American track-and-field athlete to receive four Olympic gold medals and established his legacy as a hero in the face of prejudice.

This child friendly entry in David A. Adler's well-known series contains an accessible mix of biography, facts, and history supported with lifelike illustrations. Back matter includes an author's note and a timeline.

For almost thirty years, David Adler's Picture Book Biography series has profiled famous people who changed the world. Colorful, kid-friendly illustrations combine with Adler's "expert mixtures of facts and personality" (Booklist) to introduce young readers to history through compelling biographies of presidents, heroes, inventors, explorers, and adventurers. These books are ideal for first and second graders interested in history or who need reliable sources for school book reports.
About the Author
---
David A. Adler is the author of many popular books for children, including biographies, math books, and Judaica. His strong interest in history and biography led to his bestselling Picture Book Biography series. He lives in New York State with his wife and family.

Robert Casilla is the illustrator of several titles in David A. Adler's Picture Book Biography series, with subjects that include Martin Luther King, Jr., Rosa Parks, Eleanor Roosevelt, and Jesse Owens. He lives in Connecticut.